TAP Network Position Papers:
Review & Monitoring/Accountability



TAP Network Responses to SG's Questionnaire on Follow-up and Review
Compendium – Questionnaire Critical milestones towards a coherent efficient and inclusive follow-up and review of the 2030 Agenda at the global level
SDG Indicators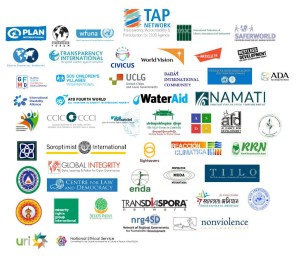 The TAP Network Global SDGs Indicator position paper identifies some of the key areas for further collaboration and work between the IAEG-SDGs, the Official Statistical community and stakeholders more broadly, and outlines some concrete recommendations on how we can best undertake this work together.
Download: TAP Network Global SDGs Indicators: building a Framework that is Fit for Purpose
Download: Stakeholder Text Amendments to Global Indicators Draft Resolution
Download: Draft Decisions for 47th Sessions of UN Statistical Commission – 11 March 2016
---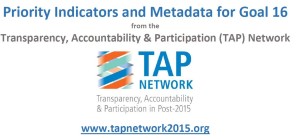 The following priority indicators and recommendations and corresponding Metadata for Goal 16 Indicators are the result of months of work and feedback from TAP Network organizations, including the inputs of dozens of experts from CSOs working closely on each of these issues. This includes some of the world's foremost civil society data providers and users from, and experts on sustainable development metrics and measurement.
Download: TAP Network Priority Indicators and Metadata for Goal 16
---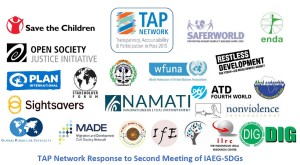 Download: TAP Network Response to Second Meeting of IAEG
---
Download: TAP Network Inputs Consultation on "Grey" Indicators
---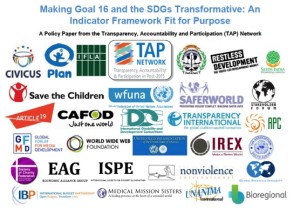 TAP Network SDG Indicators Position Paper
Key Messages
As the foundation underpinning the goals and targets, the indicator framework must be fit for purpose to ensure that the Sustainable Development Goals (SDGs) are truly transformative and advances transparency, accountability and inclusive citizen participation.
Evidence from across the world shows that it is feasible to measure proposed Goal 16. A wide variety of data already exists for measuring governance, peace and justice, and any indicators for Goal 16 must be reflective of this reality.
To capture the full story of progress towards the realization of Goal 16 and all other SDGs, indicators should be developed ranging from 1) input, output, and process indicators to show steps taken to address the problem, 2) outcome indicators to show changes on the ground, and 3) impact indicators to show whether these changes are contributing to improvements in people's lives.
Any indicator framework should draw on both official as well as third party data sources – including data produced by the UN and other multilateral institutions, civil society organizations, research institutions, academia and the private sector – and should use a wide range of data types, including administrative data, experiential, factual and perception based surveys, and expert assessments.
We must collectively use the Post-2015 process as an opportunity to significantly improve, widen and deepen data availability over the next fifteen years through increased capacity support, innovation and partnerships between national statistics systems and third parties.
Civil society, the media and other development stakeholders must have political and legal freedom to produce, access, and use data in order to hold governments to account.
---
TAP Non-Official Data Discussion Paper
TAP Network Open Letter Response to UN Technical Report on SDG Indicator Framework, March 2015
---
Financing for Development

Transparency, Accountability and Participation (TAP): Catalyzing inclusive and transformative Financing for Development
This position paper outlines the TAP Network's top-line advocacy priorities around the Financing for Development process. It has been developed through the inputs of dozens of TAP Network organizations, and has been endorsed by 28 TAP Network organizations working around the FfD process.
The paper stresses that Transparency, Accountability and Participation (TAP) must be at the heart of the Financing for Development (FfD) outcome document. The Sustainable Development Goals (SDGs) and the FfD process have both set out ambitious agendas – those in which transparent and accountable institutions and citizen participation in governance serve as linchpins for sustainable development progress at all levels.
As cross-cutting elements, the TAP Principles are critical for ensuring effective and accountable governance that will catalyze a transformative financing and Post-2015 sustainable development agenda, at all levels. This brief highlights why the TAP Principles of transparency, accountability and citizen participation are critical to maximizing effective financing and helping achieve the Sustainable Development Goals, ensuring that no one is left behind.
FINAL: Outcome Document of the Third International Conference on Financing for Development: Addis Ababa Action Agenda (PDF) (Word)
Download: TAP Network Response to the FfD3 "Addis Ababa Action Agenda" Outcome Document (PDF)
Download: Open Letter for FfD3: Ensuring Transparency and Open Data for better Financing for Development Outcomes
---
Statements:
TAP Network Statement on 2030 Agenda Outcome
TAP Network Redlines for Final Draft of Post-2015 Outcome Document
TAP Network Response to REVISED Final Post-2015 Draft Outcome Document
TAP Network Response to the Post-2015 "Final Draft"
TAP Network Response to the Post-2015 "Zero Draft"
TAP Network Response to FfD3 Outcome Document
TAP Network Statement Post-2015 IGN Interactive Dialogue – 24 June
TAP Network Open Letter Response on Indicators, March 2015