TAP at the 2017 HLPF
Some of our members that were present at the 2017 High Level Political Forum on Sustainable Development shared their thoughts and reflections on the event, which can be seen in the links below:
Alejandra Riveros
Shabira Sultana
TAP Reflections on the 2016 High-Level Political Forum on Sustainable Development
The 2016 High-Level Political Forum on Sustainable Development (HLPF) from 11-20 July marked the first opportunity for the international community to come together to collectively discuss SDG implementation and progress since the adoption of the 2030 Agenda. With the conclusion of this important HLPF session, it's important to reflect on these past two weeks and analyze where the 2016 HLPF has done to further implementation, transparency, accountability and participation of the 2030 Agenda – particularly regarding its theme of "ensuring that no one is left behind."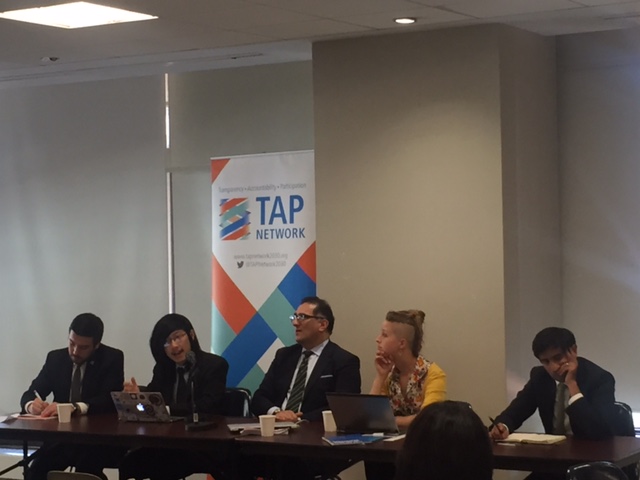 Politicization of 2030 Agenda and HLPF Ministerial Declaration
Despite attempts to agree on a Ministerial Declaration in advance of the second (ministerial/high-level) week of the HLPF, the 2016 HLPF saw some Member States hold up the adoption of the HLPF Ministerial Declaration and inject highly political issues into deliberations. Despite this hurdle, the final HLPF Ministerial Declaration was put to a vote on Wednesday (20 July) evening, and was overwhelming passed with only one lone objection to its adoption. This method of adopting the HLPF Ministerial Declaration was highly unusual and unprecedented – as HLPF Ministerial Declarations are generally passed on a consensus-basis – and raises questions about the HLPF as a "decision-making" or "vote-taking" body/forum, which many Member States have adamantly objected to in the past. Member States have acknowledged that this 2016 HLPF is not meant to be a "precedent-setting" session, so the potential implications of this "vote" on the Ministerial Declaration for future HLPF meetings are yet to be seen.
The Ministerial Declaration itself provided very little substance and failed to push the needle of ambition in any significant way. While this is somewhat to be expected of a "political declaration," a significant opportunity was squandered to make concrete commitments towards the 2016 HLPF theme of "ensuring that no one is left behind" or elaborate on the way forward for 2030 Agenda implementation or follow-up and review.
National Reviews
The 2016 HLPF featured two days focused entirely on voluntary national reviews from the 22 volunteering countries, which arguably were the most eagerly anticipated sessions of the entire HLPF. The extremely limited time that countries were given to present their national reports were indeed a challenge, with representatives expected to sum up their country's plans/efforts to implement the 2030 Agenda in such little time. This time restriction also limited the amount of questions, comments or feedback that could be provided in a facilitated "interactive" discussion following these presentations, which featured previously-set interventions from different governments, and one civil society representative. As a result, the voluntary national review sessions did not provide for sufficient opportunity for peer-learning or analytical debate – which of course is one of the overall goals of the HLPF review process itself.
Also somewhat discouraging, some developed countries highlighted through their national reviews that they had already achieved certain SDGs and targets, making the case that they would not prioritize action on these areas, and instead turn to others. This was particularly note-worthy and disappointing, as the 2030 Agenda is meant to be universally relevant, with the SDGs and many targets – particularly within SDG 16 – set as aspirational goals (ie. significantly reduce, broaden and strengthen, etc). This issue of countries "cherry-picking" certain SDGs or targets as priorities for their national development strategies was also an issue through these national reports, with many presentations showcasing issues where their government has made significant progress or plans on pushing forward.
Subsequent HLPF sessions must understand these challenges and the limited time allocated for national reviews for these sessions to take on any significance in follow-up and review for the 2030 Agenda.
Participation
The 2016 HLPF was very well attended, particularly by civil society representatives coming from all around the world. Many had high hopes and expectations for this first HLPF session after the adoption of the 2030 Agenda, and were keen to engage in the HLPF in any ways they could. Despite best efforts by many involved, the rigid programme and limited entry points proved to be an obstacle for genuine engagement of civil society and other stakeholders throughout the eight days of the HLPF. With the 2016 HLPF theme of "ensuring that no one is left behind," the HLPF's programme fell short in providing a genuine opportunity for dialogue between governments and civil society.
Another issue regarding participation was the severely restricted HLPF registration process, which restricted participation in the HLPF only to ECOSOC accredited organizations. This in particular is a direct limitation to civil society engagement in the HLPF itself, as ECOSOC accredited organizations are a very limited group of NGOs and CSOs that are subjected to a highly politicized approval process, with many Member States fighting to restrict and prevent many NGOs from ever obtaining ECOSOC accreditation. If the 2030 Agenda and the HLPF is to truly "leave no one behind," registration for the HLPF must be expanded in future years beyond merely just ECOSOC accredited NGOs.
Thankfully, there is precedent for expanding and opening up the registration process beyond ECOSOC NGOs, as the first two years of the HLPF under the auspices of ECOSOC were also open to CSOs that had special accreditation status from the World Summit on Sustainable Development and the Rio+20 Conference.
Side-events and workshops
One of the bright spots of the 2016 HLPF was the wide range of interesting side-events throughout the 8 days. The intense demand for side-event spaces around the HLPF served as an encouraging sign of the level of excitement and activity that the 2030 Agenda has generated thus far, merely 9 months since its adoption.
The TAP Network in particular hosted several events in partnership with many others over the course of the HLPF, including:
Tuesday, 12th of July — Goal 16 and Open Governance: A Workshop for Civil Society Advocacy
Tuesday, 12th of July — Is Civil Society Participation Shrinking after the Adoption of the 2030 Agenda?
Thursday, 14th of July — Measuring Peaceful, Just, and Inclusive Societies: Launch of the SDG16 Data Initiative
Thursday, 14th of July — EVERYONE COUNTS: Using Citizen-generated data for accountability towards the SDGs
Friday, 15th of July — Role of Japan and South Korea for Effective SDGs Implementation
Friday, 15th of July — Reception at the Permanent Mission of the Republic of Korea