LAST UPDATED: 13 April, 2022
Second Round of TAP Network 2022 "Innovation Fund"
(For TAP Partners only)
TAP Network is proud to announce a second open call in 2022 for proposals for the TAP Innovation Fund.  Please see all relevant information about the application process and guidelines below.
 Deadline for Submissions: 16 May 2022, at 11:59 PM EST (NY time).
If you are not yet a TAP Partner and are considering submitting an application to become eligible for this opportunity, your TAP Partner application must be submitted by 9 May, 2022 at 11:59 PM EST.  Once your TAP Partner application is submitted, please proceed in submitting your funding application before 16 May.
Applications only from active TAP Partners will be considered.  If your organization is unclear about whether or not you hold Partner status, please check our list of TAP Partners here.  If your organization is not yet a TAP Partner but is interested in becoming eligible for these two opportunities, consider submitting a TAP Partner application before applying for funding.  See instructions here.
For any questions or concerns, see the FAQ below, or please do not hesitate to send a message to secretariat@tapnetwork2030.org.
Second Round of TAP 2022 Innovation Fund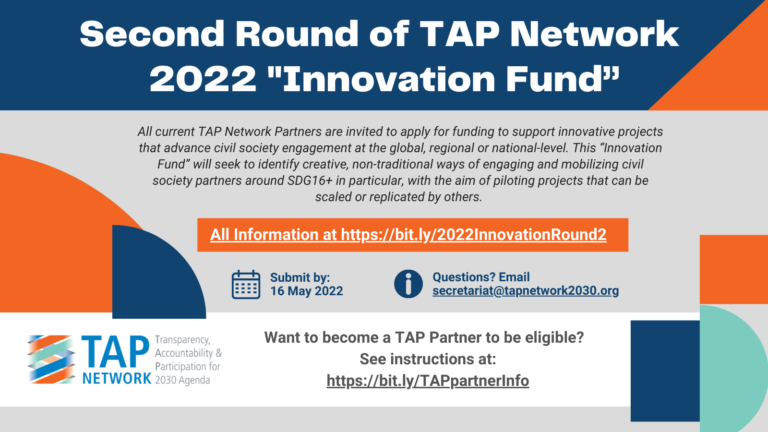 Deadline: 16 May, 2022, at 11:59 PM EST (NY time). 
The Transparency, Accountability & Participation (TAP) Network invites all current TAP Network Partners to apply for funding to support innovative projects that advance civil society engagement at the global, regional or national-level, with a focus on the TAP Network priority areas around SDG16+ and accountability for the 2030 Agenda. This "Innovation Fund" will seek to identify creative, non-traditional ways of engaging and mobilizing civil society partners around SDG16+ in particular, with the aim of piloting projects that can be scaled or replicated by others.
Proposals that prioritize "outside-the-box" ideas to advance civil society engagement around TAP's work are encouraged. This can be related to any of TAP's current work programmes, or completely new ideas for maximizing impact. "Innovative" proposals for this opportunity should go beyond more traditional means of engagement within civil society, such as meetings, workshops, webinars or blogs. Instead, "innovation" within proposals should focus on how to mobilize and engage civil society through non-traditional means, such as innovative media, non-traditional outreach methods or other ideas creative means of engagement.